Please also Visit other Web Lutfulquran.com .
Qutb-ul-Mashaikh, Qutb-e-Madaar, Rehbar-e-Gumrahaan
Moulana Lutfullah Shah Chishti Nizami Rehmatullah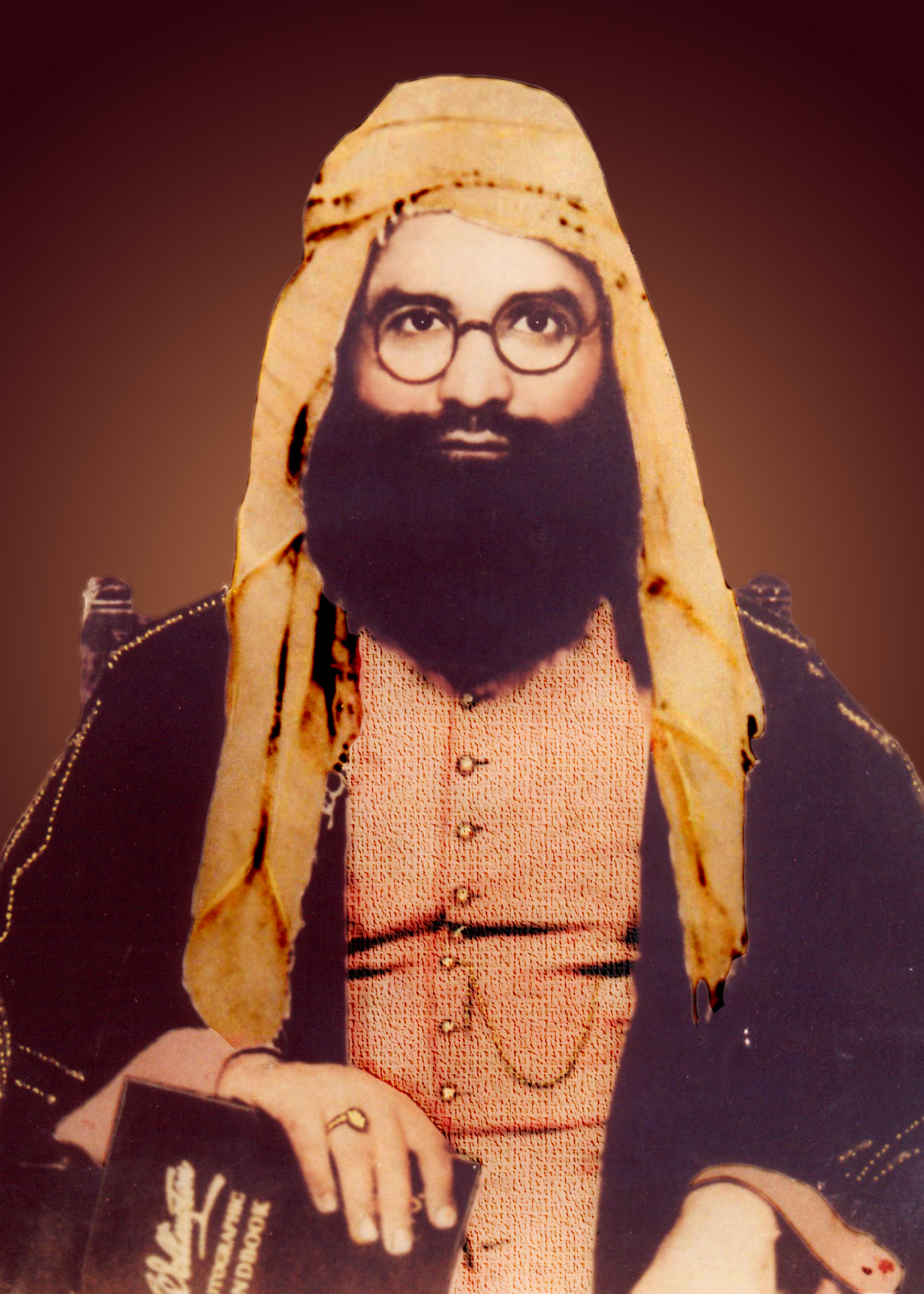 INTRODUCTION TO SILSILA AALIA CHISHTIA NIZAMIA
Silsila Aalia Chishtia Nizamia is a well known silsila in subcontinent. The Chishti Order is a Sufi order within the mystic branches of Islam which was founded in Chisht, a small town near Herat, Afghanistan about 930 CE. The Chishti Order is knownfor its emphasis on love, tolerance, and openness. The order was founded by Abu Ishaq Shami (the Syrian;) who introduced the ideas of Sufism to the town of Chisht, some 95 miles east of Herat in present-day western Afghanistan.Before returning to Syria, where he is now buried next to Ibn Arabi at Jabal Qasiyun Shami initiated, trained and deputized the son of the local emir, Abu Ahmad Abdal. Under the leadership of Abu Ahmad's descendants, the Chishtiya as they are also known,flourished as a regional mystical order. The most famous of the Chishti saints is Moinuddin Chishti (popularly known as Gharib Nawaz meaning "Benefactor of the Poor") who settled in Ajmer, India. He oversaw the growth of the order in the 13th century as Islamic religious laws were canonized. He reportedly saw the Islamic prophet Muhammad in a dream and then set off on a journey of discovery. Moinuddin Chishti's most famous disciple and spiritual successor was Qutbuddin Bakhtiar Kaki who in turn became the spiritual master of most famous disciple and spiritual successor Fariduddin Ganjshakar, who in turn became the spiritual master of Delhi's noted Sufi saint, Nizamuddin Auliya, who himself was the spiritual master of Amir Khusro and Nasiruddin Chirag-e-Delhi. Sultan-ul-Mashaikh, Mehboob-e-Ilahi, Hazrat Shaikh Khwaja Syed Muhammad Nizamuddin Auliya (1238 - 3 April 1325), also known as Hazrat Nizamuddin, was a famous Sufi saint of the Chishti Order in South Asia, an order that believed in drawing close to God through renunciation of the world and service to humanity. He is one of the great saints of the Chishti order in India.[1] His predecessors were Moinuddin Chishti, Bakhtiyar Kaki and Fariduddin Ganjshakar. In that sequence, they constitute the initial spiritual chain or silsila of the Chishti order, which is widely prevalent in India and Pakistan. Chishtia Nizami sufi order famous in subcontinent with the name of Hazrat Nizamuddin.
HAZRAT MOULANA LUTF-ULLAH SHAH CHISHTI NIZAMI RAHMATULLAH
He forms an important part of the Sufi movement which attracted many people to Islam in subcontinent. He was a renowned Muslim Sufi mystic, saint and scholar of the Chishti Order in subcontinent. His most famous disciple and spiritual successor was Sofi Abdul-Hameed.
ACTIVITIES OF SILSILA AALIA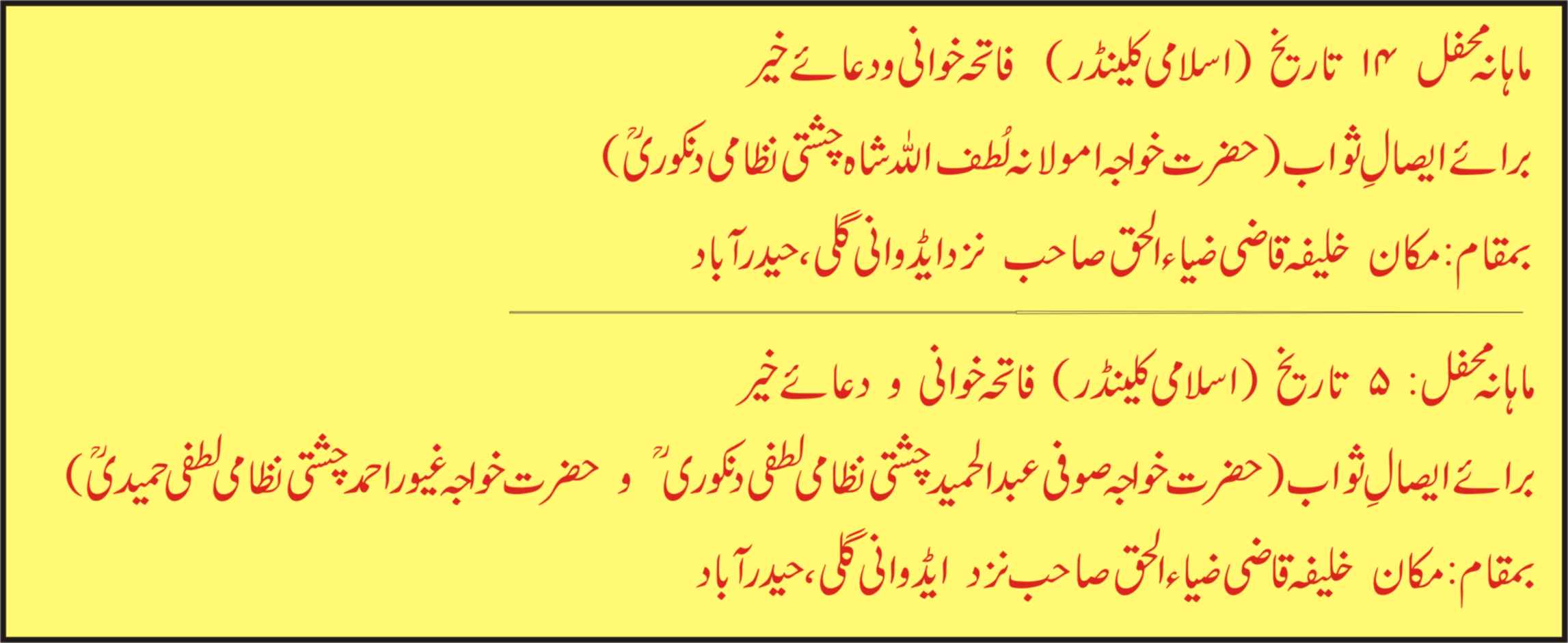 Many events for gathering people of silsila regularly held all the year, in which 5th,14th dates of each islamic month specially for Faatiha Khuwani & Dua Khair.
MONTHLY ACTIVITIES OF SILSILA AALIA
=====================================================================
14th of each islamic month dedicated to Hazrat Khuaja Moulana Lutf-ullah Shah Chishti Nizami Dankori Rehmatullah.
=====================================================================
5th of each islamic month dedicated to Sofi Abdul-Hameed Rehmatullah and Hazrat Khuaja Ghayoor Ahmed Khan Rehmatullah.
=====================================================================
YEARLY ACTIVITIES OF SILSILA AALIA
There are four Urs-Muqadas gathering held in every year which are as follows:
6th of Rajab Hazrat Khuaja Moinuddin Hassan Chishti Ajmairi Rehmatullah
17th of Rabi-us-sani Hazrat Khuaja Nizamuddin Mehboob-e-ilahi Rehmatullah
14th of Zilhaj Hazrat Khuaja Moulana Lutf-ullah Shah Chishti Nizami Dankori Rehmatullah.
5th of Ziqad Hazrat Sofi Abdul-Hameed Chishti Nizami Lutfi Rehmatullah and Hazrat Khuaja Ghayoor Ahmed Khan Chishti Nizami Lutfi Hameedi Rehmatullah